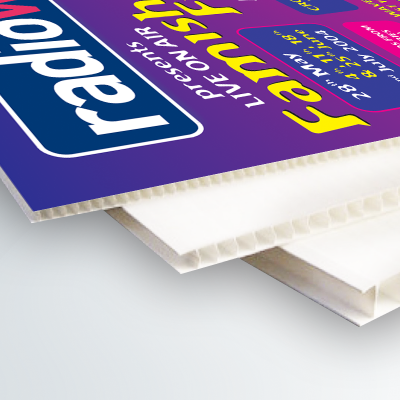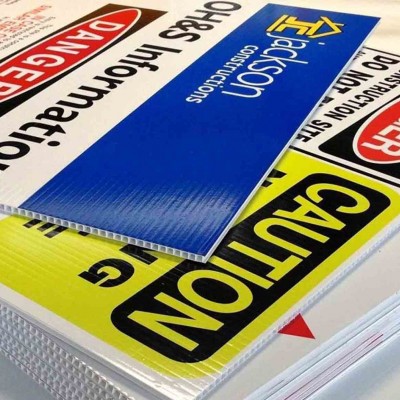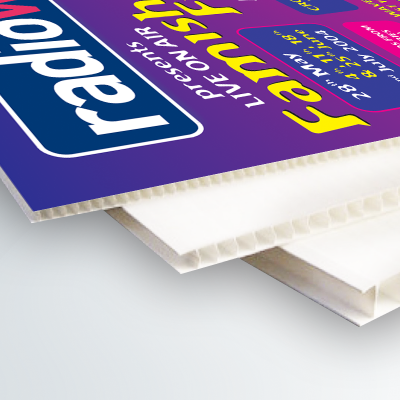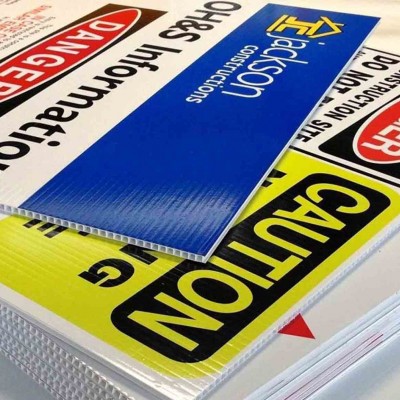 Correx Sign Printing
⭐⭐⭐⭐⭐ - 5/5 Google Reviews
Correx signs are a popular and cost-effective choice for businesses looking for a high-impact advertising solution. Made from a lightweight and durable material called corrugated plastic, Correx signs are perfect for estate agents, placards, and outdoor signs. They are easy to print on and can be customized with your business's logo, colors, and messaging to create a professional and eye-catching advertisement. Additionally, Correx signs are weather-resistant and can be used both indoors and outdoors, making them a versatile and long-lasting choice for any business.
Free UK delivery on ALL orders
For delivery/collection by:
13-06-23
Choose Printing Options
Quantity
Price
£

More Prices
Click a price below to add an item, based on your chosen printing options above and relevent service, to the basket.
Product Specifications
A Correx sign is a type of sign made from a material called corrugated plastic. Corrugated plastic, also known as corriboard or fluted polypropylene, is a lightweight and durable plastic material that is commonly used for making signs.
Correx signs are often used for outdoor advertising, as the corrugated plastic material is resistant to water, sunlight, and other weather conditions. The corrugated structure of the plastic also makes it easy to print on and customize with graphics and text. In general, Correx signs are an affordable and effective advertising solution for businesses of all sizes.
Available in single or double sided
Full waterproof and fade proof
Lightweight
Available in custom sizes
Where best to use a correx sign?
Correx boards are made of corrugated plastic, a lightweight and durable material that is easy to install and maintain. The are suitable for both indoor and outdoor use. In addition to their durability, Correx boards are also lightweight and easy to handle, and can be cut to size and specific shapes.
They are eco-friendly, as they do not contain any toxic substances and can be recycled with other PVC products. They are also quick to produce, using minimal water and electricity. Additionally, Correx boards can be installed virtually anywhere, using nails, double-sided tape, velcro, or even being folded to meet specific needs.
Overall, the versatility, durability, and eco-friendliness of Correx boards make them a great choice for signage.
Artwork Guidelines
When supplying artwork for printing, the preferred file format is PDF or high-quality JPG. To ensure that your design is print-ready, please make sure that it meets the following requirements:
Files must be at the correct scale (100% size) or at least in proportion (half size, quarter size, etc.)
The color mode must be CMYK (no RGB or Pantone colors, as these can cause problems)
All text must be converted to curves/outlines or at least embedded inside the supplied PDF
There is no need for extra bleeds or crop marks for simple rectangular signs
If you need design work or are unsure about the files you have, please attach them to your message at checkout along with a description of what you are looking for. Our team will be happy to assist you with any questions or concerns you may have.
FAQ's
Do you have an artwork guide?
Yes, click the link for all the information you need for your designs to be perfect. Artwork Guide
Can you print custom sizes and shapes?
Yes, contact us for more information.
What is the max size you can print in one section?
All out boards come in 6ft x 4ft sizes, which we then cut down to print. So in theory 6ft x 4ft would be the biggest size but you have to remember the transportation of this board, it will not fit in any cars or many small vans, so we normally always supply these in at least 2 section.
Is it suitable for indoor and outdoor use?
Yes. It's usually used for outdoor use but can also be used inside.
What is correx?
Correx is actually a brand name of corrugated plastic material, also known as polypropylene fluted board. The material is most widely used for estate agent signs and quick, durable outdoor signage. For more info on correx, check out our blog post where we talk all about it