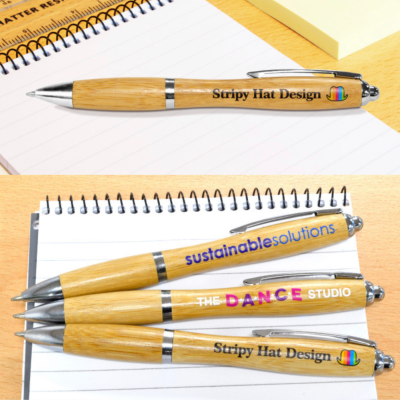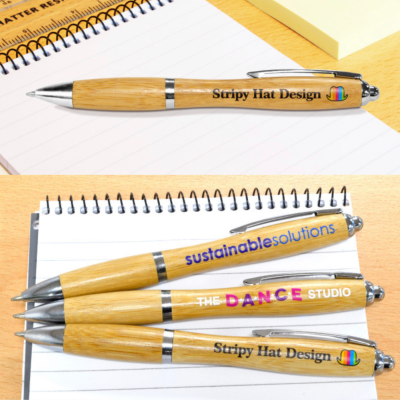 Bamboo Printed Pens
⭐⭐⭐⭐⭐ - 5/5 Google Reviews
Our bamboo pens are not only eco-friendly, but also stylish and functional. With full-color printing available, you can customize your pens with your brand logo, artwork, or message. The vibrant colors and crisp graphics make these pens stand out and catch people's attention.
These pens are comfortable to hold and write with, thanks to their smooth ballpoint tips and ergonomic design. Plus, the ink is long-lasting and smudge-free, so you can enjoy using these pens for a long time.
By choosing our bamboo pens, you're not only making a positive impact on the environment but also showcasing your commitment to sustainability. These pens are perfect for businesses, organizations, events, or individuals who want to promote eco-friendly products and practices.
Free UK delivery on ALL orders
Choose Printing Options
Quantity
Price
£

More Prices
Click a price below to add an item, based on your chosen printing options above and relevent service, to the basket.
Product Specifications
Our pens are crafted from sustainably sourced bamboo and feature sleek chrome trim for a stylish and eco-friendly design.
Say goodbye to wasteful plastic pens and make a sustainable choice with our bamboo pens that offer an eco-friendly alternative.
With a large and customizable full-color digital print area, you can easily showcase your brand, logo, or message while promoting your commitment to sustainability.
Introducing our push-button ballpen made from sustainable bamboo, featuring contrasting chrome trim for a sleek and eco-friendly design. This pen offers a sustainable alternative to plastic promotional pens and is sure to make a positive impression on your audience.
With a digital print area of 60 x 6mm, you can showcase your brand, logo, or message in full color and high resolution. The ink color is black, ensuring your writing is clear and legible.
While often referred to as printed wooden pens, our printed bamboo curvy pens are actually made from bamboo, a type of grass. Despite this, they have a wooden look and feel that is sure to impress.
Ordering our printed bamboo pens comes with several benefits, including no setup or design fees, free delivery, and full-color digital printing. Please note that, as with any natural material, there may be slight variations in color and grain between each pen you receive.
What makes these a eco friendly pen product?
Bamboo is an eco-friendly material with impressive sustainable credentials that make it a popular choice for a variety of products. Here are some of the key benefits of bamboo:
Renewable: Bamboo is a fast-growing plant that can grow up to 900mm in one day, completing its entire growth cycle in just 30 days. Unlike wood, which can take decades to mature, bamboo is typically harvested between 3-5 years after planting, and the plant regrows after harvesting.
Pesticide-free: Bamboo requires no pesticides to protect it from parasites or microbes during its lifetime.
Prevents soil erosion: Bamboo has a close-knitted root system that clumps earth and prevents soil erosion. It's particularly beneficial in tropical regions where heavy rainfall can strip the land of soil.
Low hydration: Bamboo requires little water to prosper and no irrigation is necessary.
Greenhouse gases: Bamboo absorbs five times more carbon dioxide than similar plants and produces 35% more oxygen.
Antimicrobial: Bamboo naturally inhibits the growth of bacteria and fungi, making it an excellent material for hygienic writing instruments.
Sustainability: The bamboo used in our pens comes from plantations grown specifically for harvesting, and no wild bamboo is ever used.
Choose bamboo for a sustainable and eco-friendly choice that benefits both the environment and your business.
Artwork Guidelines
On checkout, email us your logo in PNG or JPEG format or text etc and we will send you a proof to approve before print
FAQ's
No faqs for this product