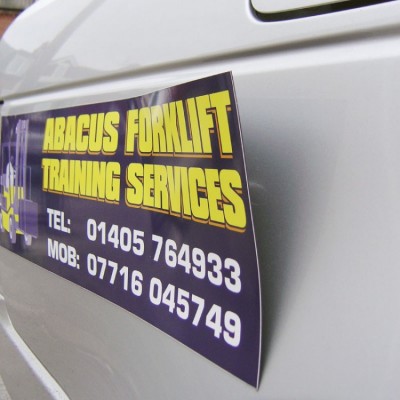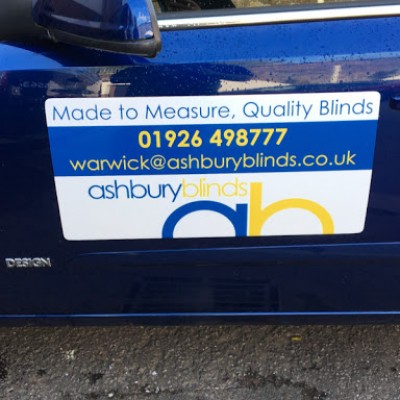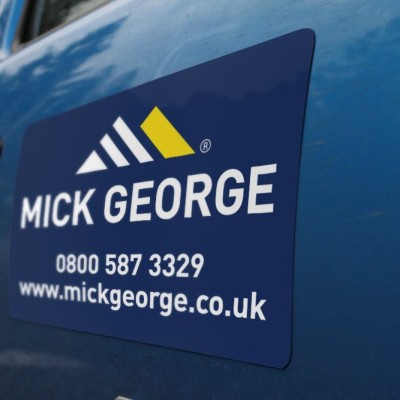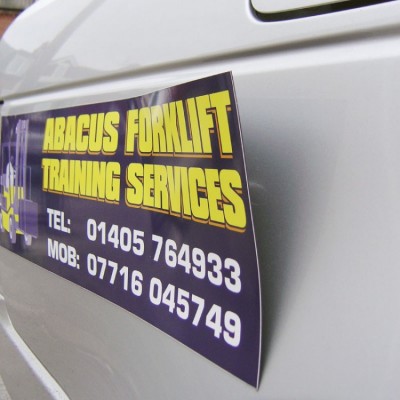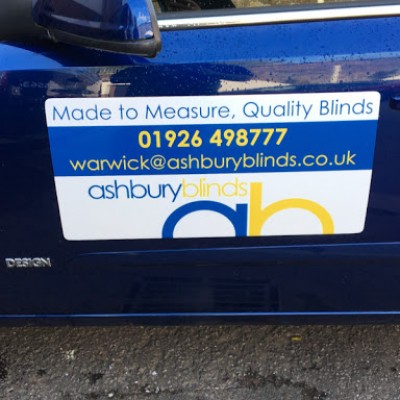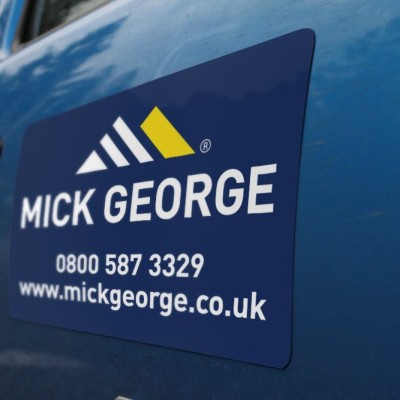 Magnetic Van signs
⭐⭐⭐⭐⭐ - 5/5 Google Reviews
Magnetic van signs are a great way to advertise your business on your van or car & can be quickly removed making them ideal for any business including Taxi firms. We only use a high quality magnetic sheet with a very high magnetic pull, the magnets digitally printed using solvent ink and has a life span of 3-4 years.
Easily fitted and removed
They stick to any flat ferrous metal panel
We use 'Motorway' grade magnetic vinyl
A quick and easy way to brand your vehicle
Free UK delivery on ALL orders
For delivery/collection by:
10-10-23
Choose Printing Options
Quantity
Price
£

More Prices
Click a price below to add an item, based on your chosen printing options above and relevent service, to the basket.
Product Specifications
Easily fitted and removed
They stick to any flat ferrous metal panel
We use 'Motorway' grade magnetic vinyl
A quick and easy way to brand your vehicle
4 important steps to remember before installing your magnetic sign:
The magnetic sign will be delivered in a roll form.
The magnetic sign needs to be straightened before installing.
To straighten the sign, gently flex it in the opposite direction until straight.
Make sure the area where the sign is going is clean.
Van and Car Magnetic Signs
Magnetic van signs are small and cheap but highly powerful marketing tools that can spread your message to hundreds of clients and customers within a matter of minutes. Realizing the potential of these little magnets, Essex Banners brings you the most reliable and cost-effective magnetic sign printing service you can get.
Car or van door magnet signs offer a great opportunity to promote your business. They are cost-effective, compact, and removable. Therefore, they give you the flexibility to place these on leased vans and to take them on and off when you need to, without any damage. They make for a perfect choice for businesses like taxi companies. They are also nice giveaways at shows.
Magnetic Signs for Van
Are you looking for a flexible and cost-effective solution to elevate your brand's visibility on the go? Look no further! Our magnetic signs for vans, also known as magnetic vehicle signs, magnetic signs, magnetic van signs, van signs, and car door magnets, offer a dynamic advertising medium that combines convenience with impact, making them an ideal choice for businesses of all sizes.
Key Features and Benefits:
1. Magnetic Flexibility: Crafted with premium-grade magnetic materials, our magnetic signs for vans adhere firmly to your vehicle's metallic surface without causing any damage. Their flexibility ensures easy application, removal, and repositioning as per your marketing needs.
2. High-Quality Printing: Our state-of-the-art printing technology ensures vibrant and eye-catching graphics that captivate your audience's attention. We use UV-resistant inks to preserve the brilliance of your designs, ensuring they withstand the test of time and weather conditions.
3. Customizable Designs: Whether you need to display your company logo, contact information, promotional messages, or any other branding elements, our magnetic signs offer ample space for customization, allowing you to create a visually striking representation of your brand.
4. Portability and Convenience: With magnetic signs, you have the flexibility to switch between multiple vehicles, expanding your reach and maximizing your advertising investment. Plus, when not in use, these signs can be easily removed and stored, ready for your next marketing campaign.
5. Cost-Effective Marketing: Compared to permanent vehicle graphics or wraps, magnetic signs offer a budget-friendly option without compromising on visual impact. They enable you to achieve the same professional look without the commitment of a permanent application.
6. Versatile Applications: Our magnetic signs are not limited to just vans; they can be used on cars, trucks, and any other metallic vehicle surface, making them a versatile tool for businesses with a diverse fleet.
7. Weather-Resistant and Durable: Engineered to withstand various weather conditions, our magnetic signs maintain their superior adhesion and printing quality, ensuring your brand message remains intact even through rain, sun, or snow.
Elevate your brand presence and drive more attention to your business with our magnetic signs for vans. Whether you're a small startup, a growing enterprise, or an established brand, these magnetic vehicle signs are an effective and convenient marketing solution to reach your target audience wherever the road takes you.
Contact us today to discuss your custom magnetic sign requirements and see your brand roll out on the streets in style!
#MagneticSigns #VanSigns #MagneticVehicleSigns #CarDoorMagnets #MobileAdvertising #BrandVisibility #OnTheGoMarketing
Artwork Guidelines
Please set up your artwork to the following specifications:
Size with bleed: A4, A3, A2, A1, A0
Resolution: 300 dpi minimum
Format: PDF or JPEG
Colour: CMYK (RGB/Pantones will be converted)
Fonts: Outlined or Embedded
Bleed: 3mm
Safe Zone: 3mm
FAQ's
Do you have an artwork guide?
Yes, click the link for all the information you need for your designs to be perfect. Artwork Guide
Can you cut the magnet in to a custom logo shape?
We can yes, but this does depend on many things regarding your artwork. We would highly recommend you contact us first with your idea to see if we can do it. 
Can you print a picture on a magnetic sign?
Yes, we can! We can print anything you send us. Just remember the quality needs to be good. But we can check this is you need us too 🙂
Can a magnet damage my car/van?
Normally the magnetic film does not harm vehicles. However, it may be that a magnetic sticker that is left too long on a vehicle can cause colour difference on the varnish. This because the UV radiation can not come under the magnet sticker that is pasted on a surface. When you paste it on a car it can cause differences in the colour of the paint. Therefore we recommend to change the positon or to remove the sticker on regular basis. 
Can a magnet sign be used on any surface?
No magnetic stickers can not be pasted on any surface. In order to make the magnetic stickers hold effectively the surface should contain iron, nickel, cobalt or gadolinium. Magnetic stickers can be pasted in the best way on a clean, dry surface.
What is a magnetic sign?
A magnet sign is similar to a regular vinyl sticker, only the surface does not stick using a glue layer, they are magnets instead. Perfect for:
Car and van branding
Introduce people to your business
Promote discounts or events on metal objects
Provide information
Advertising on hire vehicles