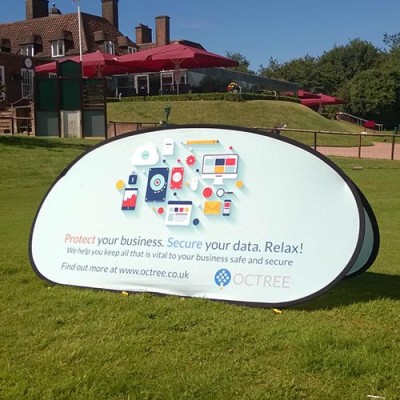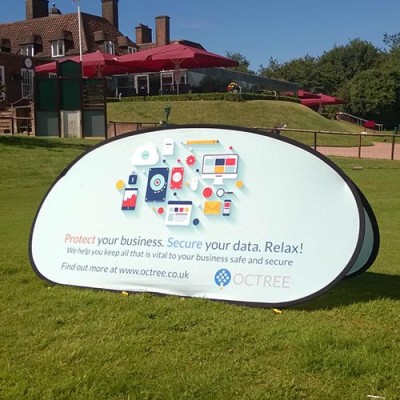 Next Day Pop Out Banners
⭐⭐⭐⭐⭐ - 5/5 Google Reviews
Order before 12pm - get it the next following working day!
Introducing our fast next day delivery pop out banners! These innovative banners are designed to make a big impact with ease and convenience. Whether you need to promote your business, advertise an event, or grab attention at a trade show, our pop out banners deliver instant visibility and professional branding.
With our fast next day delivery, you can order your pop out banner today and have it in your hands by the following working day. We understand the importance of timely marketing and the need to seize opportunities quickly. That's why we're committed to delivering your banners promptly, so you can start showcasing your message without delay.
Our pop out banners are incredibly easy to set up. Simply unpack the compact carrying case, and watch as the banner springs into shape, ready to grab attention. The lightweight and durable construction ensures stability even in outdoor settings, making these banners perfect for both indoor and outdoor events.
Featuring vibrant graphics and high-quality printing, our pop out banners ensure your message stands out in any crowd. Customizable with your logo, artwork, or promotional message, these banners provide a powerful visual impact that will leave a lasting impression on your target audience.
Don't miss out on valuable marketing opportunities. Order our fast next day delivery pop out banners today and make a statement at your next event. Experience the convenience, speed, and impact of our banners and take your brand visibility to new heights.
Video: How to setup and pack away your pop out banner
Free UK delivery on ALL orders
For delivery/collection by:
12-12-23
Choose Printing Options
Quantity
Price
£

More Prices
Click a price below to add an item, based on your chosen printing options above and relevent service, to the basket.
Product Specifications
Our pop out banners are made from high-quality polyester material, ensuring durability and longevity. With double-sided printing, these banners provide maximum brand exposure from any angle, capturing attention and leaving a lasting impression.
When you purchase our pop out banners, you'll receive a set of metal pegs and a convenient carry case absolutely free. This means you'll have everything you need to set up and transport your banners hassle-free.
The graphics on our pop out banners are printed using the dye-sublimation process, ensuring vibrant colors and sharp details. Unlike traditional printing methods, our graphics won't crack, peel, or fade, maintaining their high-quality appearance over time.
Assembly is a breeze with our pop out banners. No tools are required, making the setup process quick and simple. Whether you're a seasoned event professional or a first-time user, you'll find these banners extremely user-friendly.
We take pride in the fact that our pop out banners are UK made, guaranteeing superior quality and supporting local manufacturing. You can trust in the craftsmanship and attention to detail that comes with our domestically produced banners, rather than relying on imported products.
Choose our pop out banners for a reliable and effective promotional solution. Experience the convenience, durability, and superior graphics that our banners offer. Elevate your brand presence and make a statement with confidence.

Essex Banner Top Tips for your Pop Out Banners
Here are some tips for using your outdoor pop out banners:
Choose the right location: Select a location where the pop out banner will be visible to your target audience and will not be obstructed by other objects or people.

Set up the pop out banner correctly: Follow the instructions provided with your banner stand to ensure that it is set up properly and securely.

Keep the po pout banner clean: Regularly clean and maintain your banner to keep it looking its best. This includes removing any dirt or debris that may have accumulated on the banner and the stand.

Use the banner for multiple events: Outdoor pop out banners are a versatile and cost-effective way to promote your business or event. Consider using the same banner for multiple events to get the most value for your investment.

Take the banner down at the end of the event: Be sure to carefully disassemble the banner and pack it away in the carry bag provided to protect it for future use.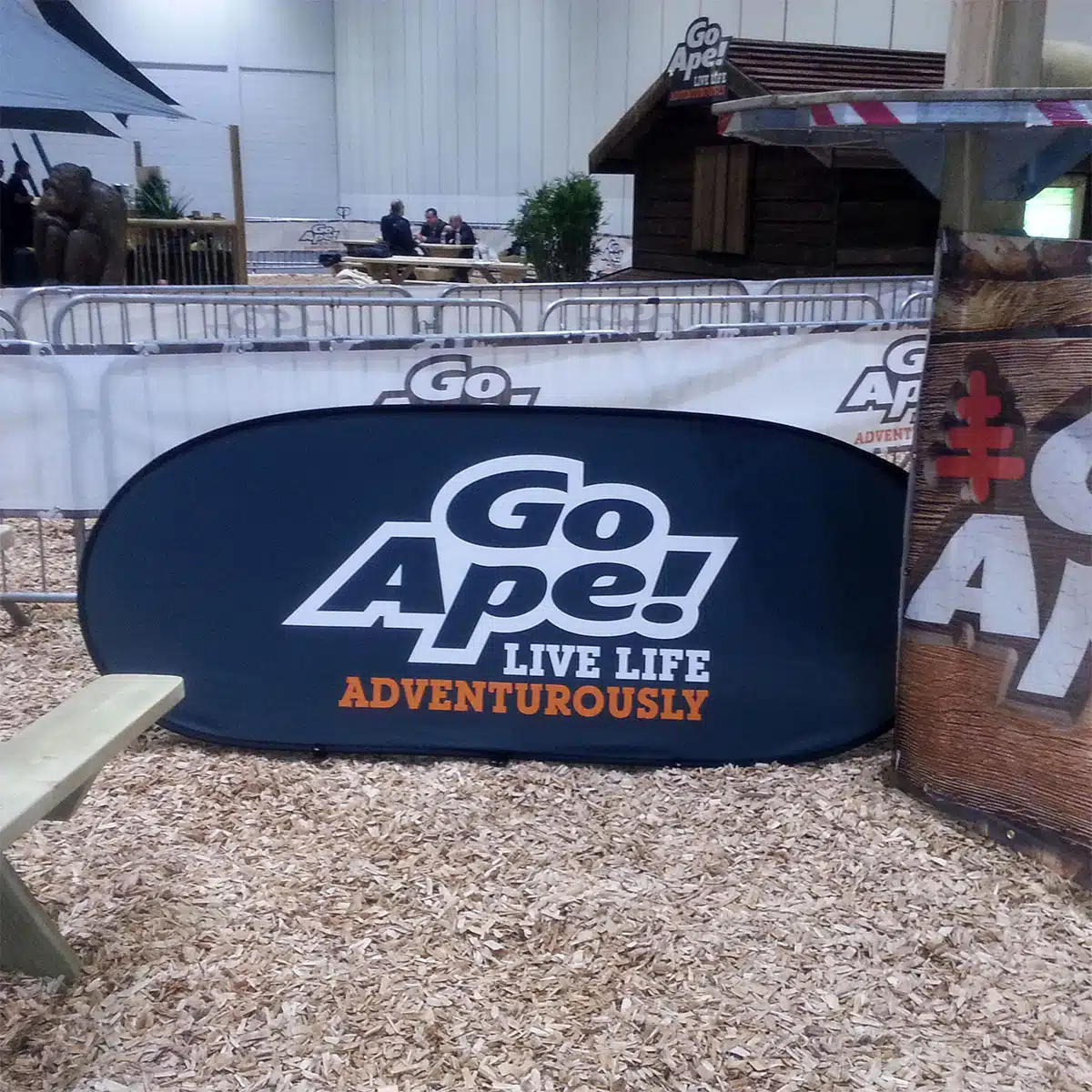 Artwork Guidelines
Pop Out Banner FREE templates. Please use our templates when you upload your artwork at checkout
FAQ's
Do you have an artwork guide?
Yes, click the link for all the information you need for your designs to be perfect. Artwork Guide
How do I fix it to the ground/floor?
All our pop out banners come FREE with metal pegs and a carry case, easy to install into grass. These also can be used on concrete but would need weighing down through the middle of them with a weight
Do they come printed double sided?
Yes they do, the same artwork will be printed on both sides