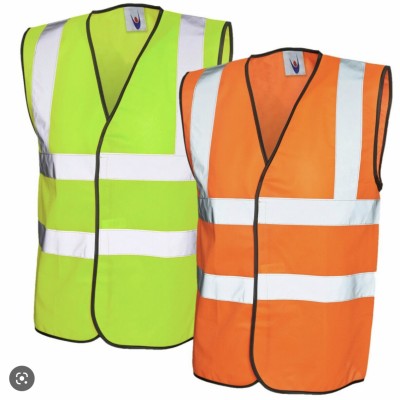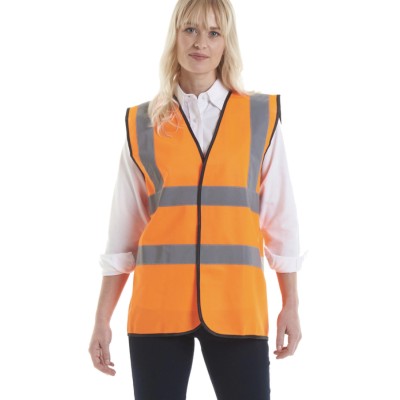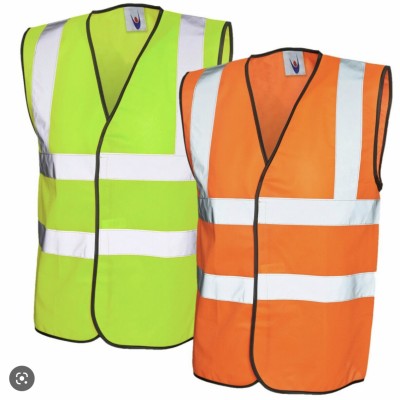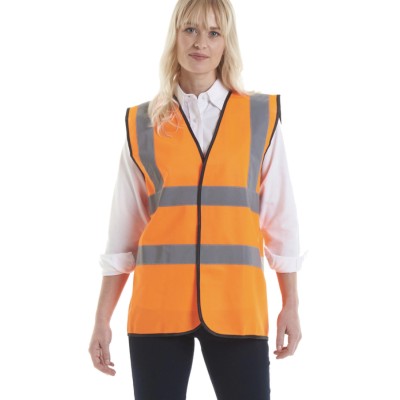 Hi-viz Printing Essex
⭐⭐⭐⭐⭐ - 5/5 Google Reviews
From £6.00
FREE artwork setup
Hi Viz vests printing, bright yellow and bright orange are available and in stock . We also stock, blue, pink ands black hi vis. A must for your workwear PPE. These hi viz vests from uneek are a budget friendly hi viz but are perfect for your PPE workwear.
| | | | | |
| --- | --- | --- | --- | --- |
| Size | Small | Medium | Large | X Large |
| Chest to fit (inch) | 38-40 | 40-42 | 42-44 | 44-46 |
| Chest to fit (cm) | 96-101 | 101-107 | 107-112 | 112-117 |
Free UK delivery on ALL orders
For delivery/collection by:
12-12-23
Choose Printing Options
Quantity
Price
£

Product Specifications
Please see below the colour options. If there are any colours that are not listed contact us and we can see if we can source it for you from our clothing supplier:-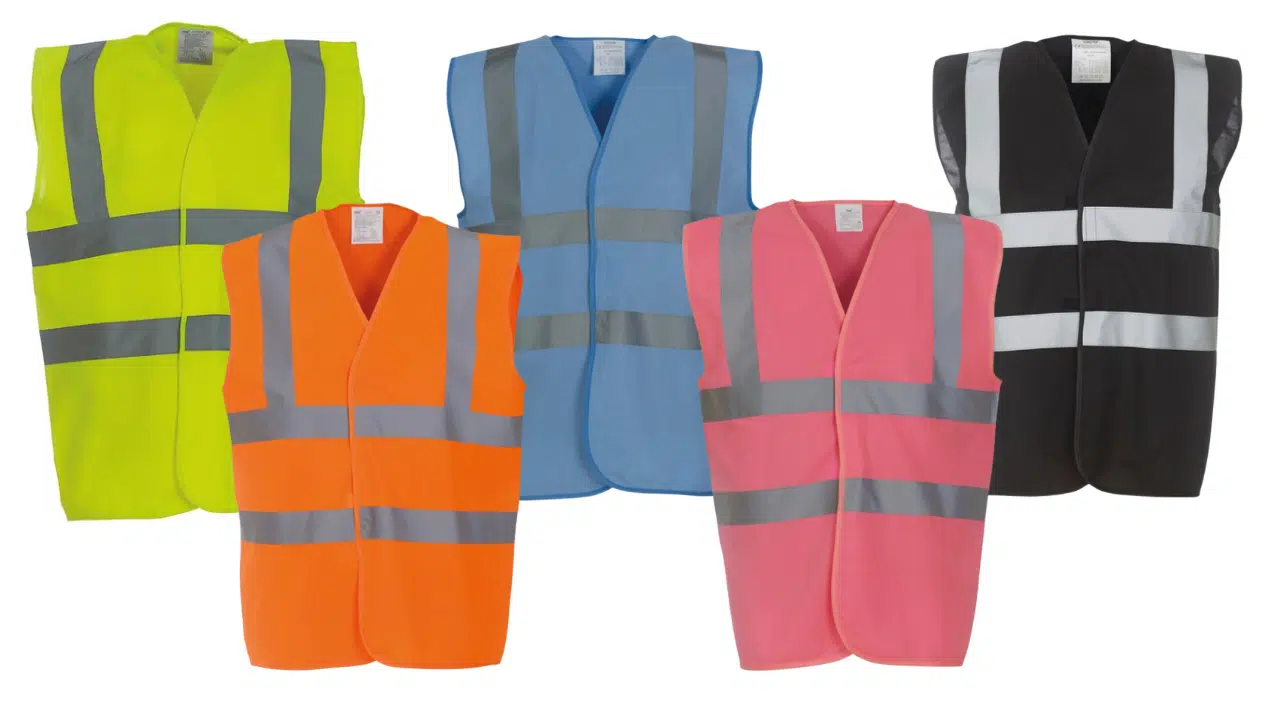 Enhancing Safety and Style with Branded Hi-Vis Workwear in Various Colors
In the realm of safety-conscious industries, Hi-Vis workwear has become an essential staple. From construction sites to warehouses, highways to factories, and even in the emergency services sector, high-visibility clothing plays a crucial role in keeping workers safe. However, these garments are no longer just about safety; they're also a means of brand representation.
The Power of Yellow: Visibility and Vigilance
Yellow is a popular choice in hi-vis workwear, and for good reason. This vibrant hue ensures optimal visibility in most lighting conditions, making it ideal for environments where workers need to stand out. The brilliance of yellow ensures that employees remain visible, reducing the risk of accidents and enhancing overall safety. Moreover, yellow instills a sense of cheerfulness and positivity, making it a great choice for businesses that want to convey a friendly and approachable image.
Orange: A High-Visibility Standard
Orange is another go-to color for hi-vis workwear. Its high visibility in various lighting conditions, from dawn to dusk, makes it an excellent choice for those working in construction, roadwork, and traffic control. Orange symbolizes energy and enthusiasm, instilling a sense of commitment and dedication among workers. When emblazoned with a company logo or message, orange hi-vis workwear can also convey professionalism and unity among the team.
Blue: A Cool and Cautious Choice
In some industries, where safety is paramount but high visibility is not the only requirement, blue hi-vis workwear becomes an excellent choice. The cool and calming effect of blue fosters a more relaxed and comfortable work environment. This color is particularly suitable for roles where workers need to balance safety with a less intimidating appearance, such as security personnel in a corporate setting or lifeguards at a pool.
Pink: A Surprising Splash of Visibility
Pink might not be the first color that comes to mind when thinking about hi-vis workwear, but it's gaining popularity in certain industries. This color defies stereotypes and can be used to make a bold statement. For example, it's an excellent choice for breast cancer awareness events, where workplaces show their support by outfitting employees in pink hi-vis gear. Pink not only raises awareness but also sends a message of empathy and compassion.
Black: Balancing Style and Safety
Black might seem like an unconventional choice for hi-vis workwear, given its reputation for being a color that absorbs light. However, when used strategically, black can add a touch of style to safety. For jobs that demand both safety and a certain level of elegance, like event security or hotel staff, black hi-vis workwear with reflective strips can strike the perfect balance between sophistication and safety.
While the choice of color is essential in conveying the right image, customisation through branding is equally significant. Companies can have their logos, slogans, and other identifying marks printed or embroidered on hi-vis workwear. This customization helps in building brand recognition and employee unity.
Branding on hi-vis workwear also serves another crucial purpose - it makes employees feel like a part of a team. When employees wear branded hi-vis gear, they not only represent their company to the outside world but also carry a sense of belonging and pride, contributing to a positive work environment.
In conclusion, branded printed hi-vis workwear is not just about safety but also about showcasing your company's identity and values. The choice of color can play a significant role in influencing perception, from safety consciousness to approachability and style. So, whether you opt for the traditional yellows and oranges or go for something more daring like pink or black, your hi-vis workwear can make a bold statement about your company.
Artwork Guidelines
To avoid unnecessary charges and delays and to ensure you receive the highest quality customisation please review our artwork guidelines below.
Should you not have the artwork in a format suitable for customisation we can convert (re-draw) your file to a suitable type for a fee of £25.00. Of course, you will be notified and ask for confirmation prior to this work taking place.
PRINT
Vector Ai files or EPS files
Vector Illustrator and EPS files are the preferred files types. It's easy to differentiate between vectors and other formats. If you zoom into a vector, you will see no jagged edges or distortion. If you zoom into a bitmap, the image and edges will become blocky.
Don't create a bitmap file and then save it as a AI or EPS file - it's still a bitmap and would be unusable unless we re-draw it for a fee.
Pantone spot colours
All colours should be converted to spot colours. Within Illustrator and other packages, individual colours can be selected and changed to their Pantone equivalents. Please refer to the software documentation, or browse the Internet for more details.
Embedding fonts and converting fonts to paths (or curves)
If your logo has any fonts / typefaces, then these MUST be converted to paths (or converted to curves - depending on your software package). This simply means that the font is converted to a graphic object and cannot be changed. If this is not done, then when we receive the file and don't have the equivalent font, we won't be able to match your artwork.
TIF and PSD bitmap files - suitable for single colour prints
Artwork files must be sized to the exact size (or larger) than the actual print size and must be at least 300dpi at the print size. Colours should be separated in layers. This is not a preferred method and may incur extra costs if we have to manipulate the file. NOTE: Not suitable for CAD CUT
Adobe PDF files
PDFs must be created from vector files and maintain edit capabilities.
Don't create a bitmap file and then save it as a PDF file - it's still a bitmap and would be unusable and would be liable for a re-draw fee.
ARTWORK
Once you have submitted your artwork, we will provide an artwork proof for you to check, in order to make sure your artwork is correct.
You can log into your account in order to view this proof, and from there you can approve or request changes to the artwork. We won't print your order until you have approved the artwork.
Please note…
That we cannot be held responsible for issues contained in the supplied artwork itself such as spelling mistakes, grammatical errors, RGB colour mode, overprint, resolution, missing fonts and missing images. To avoid these issues, please ensure your artwork adheres to our requirements.
Artwork not supplied to our requirements will likely render an unsatisfactory result or delay your order. If you are unsure about the artwork you have, please check with us beforehand to ensure there are no complications with your order. If artwork cannot be used to produce what has been ordered, we will advise you of this and request how you would like to proceed. If an artwork size is different to the ordered size, the ordered size always takes precedence. This is due to the fact that artworks from our customers are supplied in a variety of scales.
With subjective issues of quality such as image resolution, we will sometimes advise you if the quality is extremely low, though again, we cannot be held responsible if the artwork is supplied in such a manner and isn't suitable for your needs.
Artwork created in non-Adobe applications (such as CorelDRAW, SignLab and AutoCAD) can cause output issues. If you are using a non-Adobe application, please ensure to follow all of our artwork requirements and use a modern PDF generator.
FAQ's
No faqs for this product