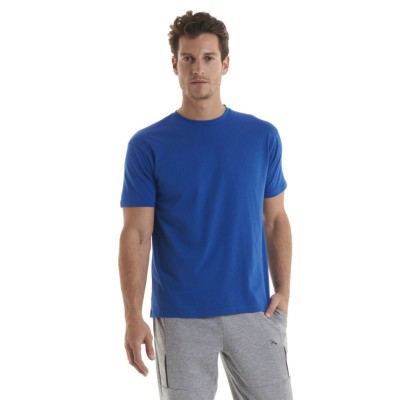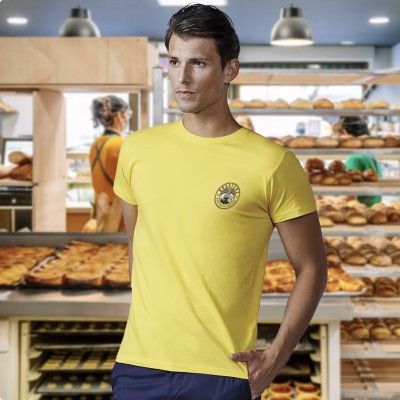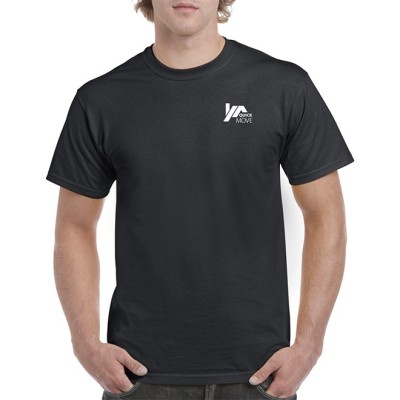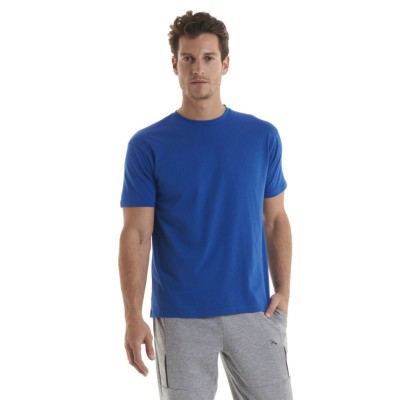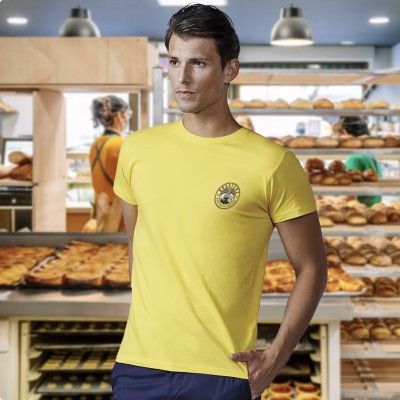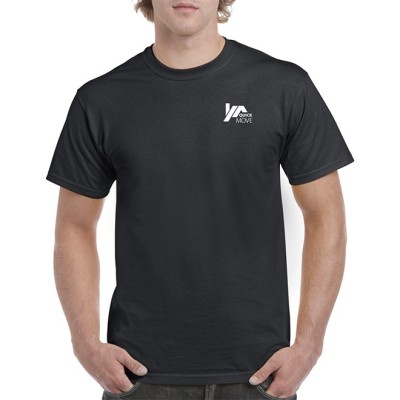 T-shirt Printing Essex
⭐⭐⭐⭐⭐ - 5/5 Google Reviews
From £5 per T-Shirt
FREE artwork setup
Boasting a fine knit gauge that elevates its printability, the Valueweight T-shirt is the ideal choice for a wide range of purposes, including retail, licensing, tourism, and one-off promotions. Notable features encompass a comfortable crew neck with a cotton/Lycra® rib for added durability and a self-fabric back neck tape. This T-shirt offers a timeless, classic fit and is presented in a delightful array of colors.
Printed branded t-shirts are a great marketing tool to make the world remember your business name. We have a number of colours to choose from and sizes. These price friendly t-shirts are you ultimate giveaway at events.
| | | | | |
| --- | --- | --- | --- | --- |
| Size | Small | Medium | Large | X Large |
| Chest to fit (inch) | 38-40 | 40-42 | 42-44 | 44-46 |
| Chest to fit (cm) | 96-101 | 101-107 | 107-112 | 112-117 |
Free UK delivery on ALL orders
For delivery/collection by:
12-12-23
Choose Printing Options
Quantity
Price
£

Product Specifications
Please see below the colour options. If there are any colours that are not listed contact us and we can see if we can source it for you from our clothing supplier:-
How Branded T-Shirts Boost your Brand's Visibility
Branded promotional t-shirts are a great product to make everyone notice your name. Not only can they be designed in a range of colours and forms, branded t-shirts are a low cost way to create visibilty for your business or brand in a fun and sensible way.
Benefits of Branded T-Shirts for YOUR Business
REMEMBER whenever someone wears your branded t-shirt with your logo on it, they are advertising your company for you and representing your company in a professional way. Plus, if the branded t-shirt looks good, then you are already showing the quality off work your business offers and accepts. Even a simple bargain cotton tee like the above can do amazing things for your marketing strategy, by helping raise awareness.
Artwork Guidelines
To avoid unnecessary charges and delays and to ensure you receive the highest quality customisation please review our artwork guidelines below.
Should you not have the artwork in a format suitable for customisation we can convert (re-draw) your file to a suitable type for a fee of £25.00. Of course, you will be notified and ask for confirmation prior to this work taking place.
PRINT
Vector Ai files or EPS files
Vector Illustrator and EPS files are the preferred files types. It's easy to differentiate between vectors and other formats. If you zoom into a vector, you will see no jagged edges or distortion. If you zoom into a bitmap, the image and edges will become blocky.
Don't create a bitmap file and then save it as a AI or EPS file - it's still a bitmap and would be unusable unless we re-draw it for a fee.
Pantone spot colours
All colours should be converted to spot colours. Within Illustrator and other packages, individual colours can be selected and changed to their Pantone equivalents. Please refer to the software documentation, or browse the Internet for more details.
Embedding fonts and converting fonts to paths (or curves)
If your logo has any fonts / typefaces, then these MUST be converted to paths (or converted to curves - depending on your software package). This simply means that the font is converted to a graphic object and cannot be changed. If this is not done, then when we receive the file and don't have the equivalent font, we won't be able to match your artwork.
TIF and PSD bitmap files - suitable for single colour prints
Artwork files must be sized to the exact size (or larger) than the actual print size and must be at least 300dpi at the print size. Colours should be separated in layers. This is not a preferred method and may incur extra costs if we have to manipulate the file. NOTE: Not suitable for CAD CUT
Adobe PDF files
PDFs must be created from vector files and maintain edit capabilities.
Don't create a bitmap file and then save it as a PDF file - it's still a bitmap and would be unusable and would be liable for a re-draw fee.
ARTWORK
Once you have submitted your artwork, we will provide an artwork proof for you to check, in order to make sure your artwork is correct.
You can log into your account in order to view this proof, and from there you can approve or request changes to the artwork. We won't print your order until you have approved the artwork.
Please note…
That we cannot be held responsible for issues contained in the supplied artwork itself such as spelling mistakes, grammatical errors, RGB colour mode, overprint, resolution, missing fonts and missing images. To avoid these issues, please ensure your artwork adheres to our requirements.
Artwork not supplied to our requirements will likely render an unsatisfactory result or delay your order. If you are unsure about the artwork you have, please check with us beforehand to ensure there are no complications with your order. If artwork cannot be used to produce what has been ordered, we will advise you of this and request how you would like to proceed. If an artwork size is different to the ordered size, the ordered size always takes precedence. This is due to the fact that artworks from our customers are supplied in a variety of scales.
With subjective issues of quality such as image resolution, we will sometimes advise you if the quality is extremely low, though again, we cannot be held responsible if the artwork is supplied in such a manner and isn't suitable for your needs.
Artwork created in non-Adobe applications (such as CorelDRAW, SignLab and AutoCAD) can cause output issues. If you are using a non-Adobe application, please ensure to follow all of our artwork requirements and use a modern PDF generator.
FAQ's
Can you help with my T-shirt design?
Yes we can contact us before you place your order and our team will help you all the way through the process 
What is Embroidery?
Embroidered clothing is a perfect solution for several purposes, the most popular of which being used by employers to give their workforce a strong identity and help to promote their brand.
With this technique when adding a logo to your garment via embroidery, an embroidery hoop is placed onto the garment and backing fabric is applied to the logo area. This ensures that the garment is secure while the logo is stitched. Occasionally, this process may leave a mark on the garment but is nothing that can't be easily rubbed or washed off. The actual embroidery process is carried out by a computerised embroidery machine. Your logo is digitised and submitted to the embroidery machines. We use only ISACORD threads and industry leading embroidery machines to guarantee the highest quality result.
In terms of suitability, embroidery tends to work best on polo shirts, business shirts/blouses, aprons/tabards, jackets & headwear.