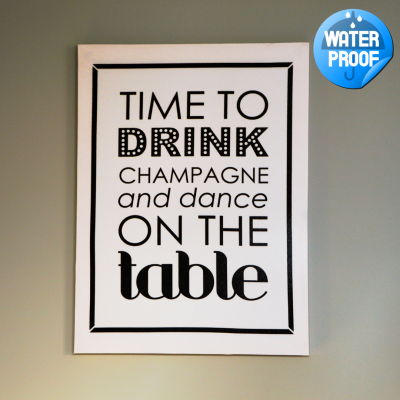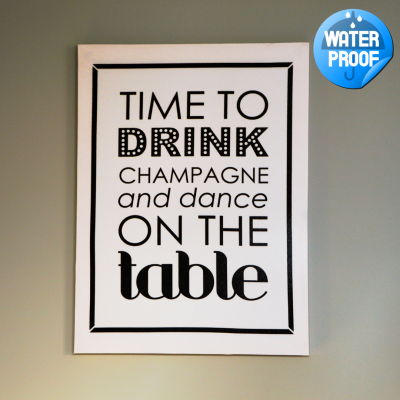 Waterproof Posters
⭐⭐⭐⭐⭐ - 5/5 Google Reviews
Waterproof Posters - your perfect product for outdoor advertising!
These waterproof posters are perfect for those who want to add a splash of colour to their homes or workplaces, without worrying about moisture damage. Printed on a high-quality PVC, waterproof material, these outdoor posters are not only durable but also highly resistant to water and other liquids, ensuring that your poster stays looking great for years to come.
Our waterproof posters are available in all sizes, so you can choose the perfect fit for your space. Whether you want a small A4 poster for your bedroom or a large A1 poster for your office, we've got you covered. And the best part? We offer FREE UK delivery on all orders, so you can enjoy your new waterproof poster without any additional delivery costs.
These waterproof posters are perfect for a range of uses, from adding a pop of colour to your bathroom to displaying important information in a public space. Our waterproof posters are also a great option for outdoor events, as they can withstand rain and other weather conditions.
Order your waterproof poster today and see the difference for yourself. With their high-quality printing and waterproof material, these posters are sure to make a lasting impression.
Free UK delivery on ALL orders
For delivery/collection by:
06-10-23
Choose Printing Options
Quantity
Price
£

More Prices
Click a price below to add an item, based on your chosen printing options above and relevent service, to the basket.
Product Specifications
Waterproof PVC Posters
Posters that can last years outside! Our outdoor waterproof PVC Posters can be placed outside and be fully waterproof and UV proof against the sun. Printed on PVC material and available in a number of sizes and quantities.
If your looking for indoor posters. Why not look at our indoor posters range
Fast FREE UK Delivery is available on all outdoor waterproof posters.
Key features:
Our waterproof outdoor posters are printed on durable PVC material, making them ideal for long-term use in various weather conditions.
Choose from six popular sizes, and take advantage of our bulk discounts to get even more value for your money. Need a custom size? No problem - just contact us
Our tear-resistant poster material can withstand wear and tear, and can be easily wiped clean when necessary.
These posters are perfect for use with pavement signs or poster frames, making them a versatile option for your outdoor advertising needs.
We use high-quality, eco-friendly inks for our poster printing, ensuring that your posters are not only vibrant and eye-catching, but also environmentally conscious.
With high-resolution 1400dpi printing and six colour options, your design will look sharp, clear, and stunning.
Choose our waterproof outdoor posters for a durable, versatile, and environmentally-friendly advertising solution.
Artwork Guidelines
After placing your order, you'll have the opportunity to upload your print-ready artwork. To ensure that your design is printed correctly, we ask that you include a 3mm bleed on all sides of your artwork and supply it as a CMYK PDF file with all fonts outlined or embedded.
To guarantee the highest quality of your printed product, please ensure that your design has a resolution of 150dpi and is at a scale of 1:1. This will ensure that your artwork is sharp and clear when it's printed.
Following these guidelines will help us provide you with a final product that exceeds your expectations. Thank you for choosing our services, and we look forward to creating your printed materials!
FAQ's
No faqs for this product