Pavement Signs
Pavement signs are one of the oldest methods of advertising around. There is no simpler or more effective method of making yourself known outdoors.Outdoor signage is a tried and tested method to increase footfall in your establishment. Furthermore, these signs are great for running special offers, thus keeping your business relevant at all times of the year.
A-Frames
A-frame signs are a great product to get your customers into your store. Printed on weatherproof PVC, your artwork is duplicated to catch attention from both directions. Your sign will also arrive pre-fitted but you can buy replacement posters whenever you like.
View Prices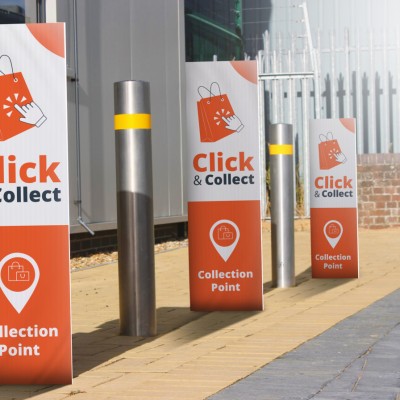 Bollard Covers
Give your customers all the benefits of this eye-catching display option – perfect for advertising a shop re-opening! These three-sided Correx covers come pre-creased with glue-free fastening tabs and are suitable for bollards up to 205mm in diameter. They make for sturdy, waterproof displays and are commonly used for outdoor campaigns lasting 6 months.
View Prices
Chalkboard Sign
Chalkboard signs can be used as menus, outdoor signage. Perfect for cafes, pubs, restaurants and many other businesses. These come as an unprinted board for you to decorate with their own chalk markers and promote what you want, when they want.  Our chalkboard signs are weatherproof and made using high-quality steel for the hinges and top quality wood.
View Prices