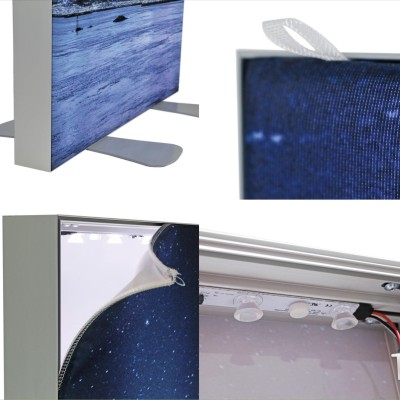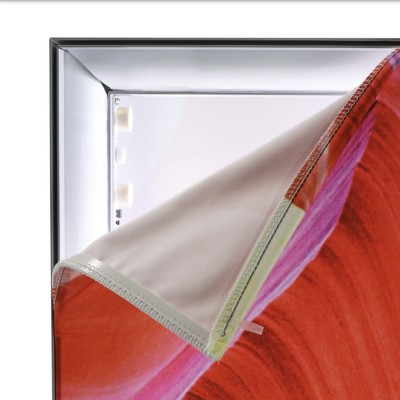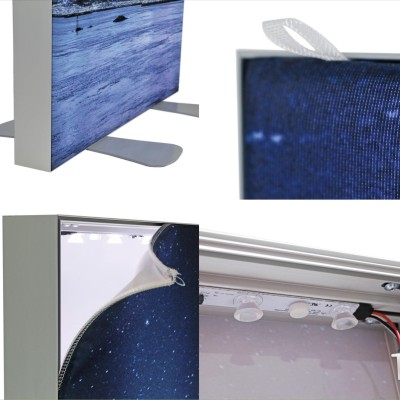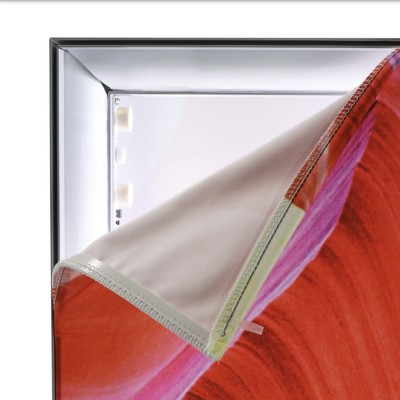 Free-Standing Fabric Lightbox
⭐⭐⭐⭐⭐ - 5/5 Google Reviews
Standard and Premium versions available IN STOCK
Make a bold and lasting impression with our backlit tension fabric displays. These free-standing displays feature an aluminum extrusion frame kit, designed to provide a sturdy and stable base for your artwork. The frame comes in two thickness options, 100mm for the standard and 120mm for the premium, ensuring durability and stability.
Our displays use a fabric graphic, printed using dye-sublimation onto 310gsm Backlit Polyester for vivid and striking image quality. The fabric is finished with a silicone edging, which is slotted into the aluminum channel and tensioned around the edge for a seamless look. The backlit feature provides unparalleled vibrancy to your artwork, making your message stand out and catch the attention of your audience.
Free UK delivery on ALL orders
For delivery/collection by:
12-12-23
Choose Printing Options
Free-Standing Fabric Lightbox
Quantity
Price
£

More Prices
Click a price below to add an item, based on your chosen printing options above and relevent service, to the basket.
Product Specifications
Highlight your brand with our backlit tension fabric displays. These free-standing systems feature an aluminum extrusion frame with thicker 100mm (standard) or 120mm (premium) profiles and stabilizing feet for added stability. The display is completed with a dye-sublimated 310gsm polyester fabric graphic, silicone edging and tensioned to create a seamless and vibrant branding solution.
Perfect for store displays or exhibitions, these displays are easy to install and maintain with replacement graphics that can be easily swapped by existing staff. Each order comes with two graphics, one for each side, allowing you to showcase different messages or promotions.

What's the difference between your standard and premium Lightboxes?
Our Free-Standing Lightboxes come in premium and standard options, with the main differences being the brightness and quality of the LED lights used. The premium version has lights along the long edges for improved lighting and can also be equipped with a backlit board for larger displays, though it comes at an additional cost and requires professional installation.
The lightboxes are easy to assemble with the included allen key and come in sections. The graphics are printed with a FabriVU 340, which delivers a vibrant and rich finish, perfect for indoor exhibitions and displays.
Our Lightbox graphics come with a convenient nylon pull tab as standard, making it easy to remove the graphic from the frame. The pull tab is typically placed in an upper corner of the graphic to keep it out of reach of children. If you have a different preference for the pull tab location or do not want it at all, please let us know. The power cable length is approximately 3m, however, if you require a different length, please contact us.
What do you get with your light box order
Aluminium frame components
LED lights (already attached to the inside of the frame)
UK power cable with transformer and fitted plug
Allen key
2 × dye-sublimation printed graphics
1 year warranty (30 day full-warranty, 'return-to-base warranty' thereafter)
Artwork Guidelines
Our templates are designed to assist you in creating a design that is the correct size, shape, and proportion for the SEG Fabric Free-Standing Lightboxes. They are set up at 100% scale of the full size.
Requirements
Artwork must be supplied:
At the exact size of this template
With all fonts outlined
With all images embedded
With all design elements on the Design layer
With background/quiet content all the way to the bleed line(s)
With all important content inside the safe area(s)
With none of the template guide lines included or flattened
With no crop marks, bleed marks, colour bars or other registration marks present
As either PDF (preferred), AI or EPS format
With exported files checked (e.g. in Adobe Acrobat/Reader) that all design elements are included
FAQ's
No faqs for this product