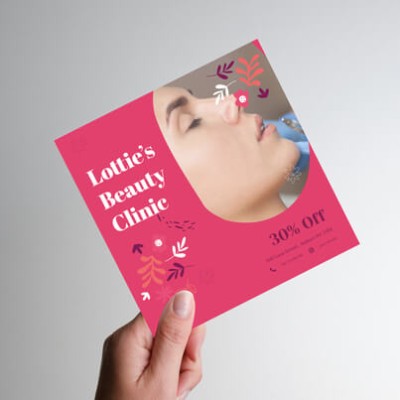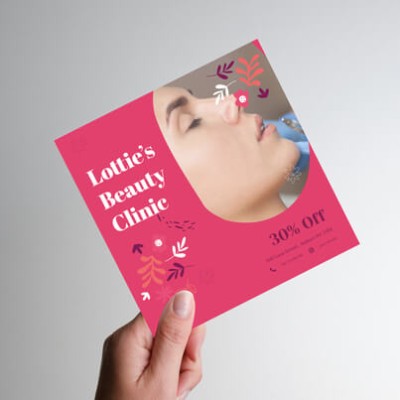 Square 148mm x 148mm Flyers
⭐⭐⭐⭐⭐ - 5/5 Google Reviews
148mm Square Flyers are unique and eye-catching marketing materials that can help you promote your business, event, or product in a creative and memorable way. Measuring 148mm x 148mm, they are the perfect size for distributing to potential customers and clients, or for displaying on bulletin boards and noticeboards.
Printed on many different materials, 148mm Square Flyers can be printed with your branding, images, and messaging to create a distinctive impression on your target audience. They are ideal for promoting new products, services, special offers, events, and more.
With their square shape and vibrant colors, 148mm Square Flyers can help you stand out from other marketing materials and capture attention. They can be displayed in unique ways such as folded, as part of a product packaging, or as a direct mail campaign.
Free UK delivery on ALL orders
For delivery/collection by:
13-06-23
Choose Printing Options
Quantity
Price
£

More Prices
Click a price below to add an item, based on your chosen printing options above and relevent service, to the basket.
Product Specifications
Here are some facts about 148mm x 148mm square flyers and leaflets:
148mm x 148mm square flyers and leaflets are a unique and eye-catching size that can help your marketing materials stand out from standard-sized flyers.

The square shape allows for more creativity in design, as images and text can be arranged in a more dynamic and interesting way.

Despite their square shape, 148mm x 148mm flyers and leaflets can still fit easily into standard envelopes, making them a great choice for mailing campaigns.

This size is also known as "6x6" because it measures 6 inches by 6 inches.

148mm x 148mm square flyers and leaflets are often used for promoting events, products, or services that require a unique and memorable marketing approach.

This size is less common than other standard flyer sizes, which can make it stand out even more and leave a lasting impression on potential customers.

Square flyers can be printed on both sides, allowing for more information and imagery to be included.
What GSM shall i get my sqaure flyers printed in?
The choice of GSM (Grams per Square Meter) for your square flyers depends on the desired quality, durability, and budget for your specific project. The most common GSM options for square flyers range from 130gsm to 300gsm.
For a cost-effective option, you can choose a 130gsm or 150gsm paper. These paper weights are lightweight, making them easy to handle and distribute, while still being thick enough to give your flyers a professional look.
If you want a more durable and substantial feel to your flyers, you can choose heavier paper. For example, 170gsm to 200gsm paper provides a thicker feel, making the flyers more robust and suitable for longer-term use.
If you want to give your flyers a premium look and feel, 250gsm or 300gsm paper can be used. These are heavyweight papers that are thicker and more substantial, giving your flyers a high-quality look and feel.
Ultimately, the choice of GSM for your square flyers depends on the desired quality and budget for your specific project. If you are unsure which GSM to choose, you can consult with your printer to determine the best option for your needs.
Artwork Guidelines
Please set up your artwork to the following specifications:
Size with bleed: 154mm x 154mm
Resolution: 300 dpi minimum
Format: PDF or JPEG
Colour: CMYK (RGB/Pantones will be converted)
Fonts: Outlined or Embedded
Bleed: 3mm
Safe Zone: 3mm
Artwork Templates
FAQ's
No faqs for this product