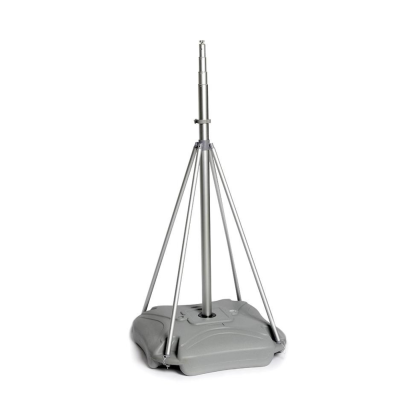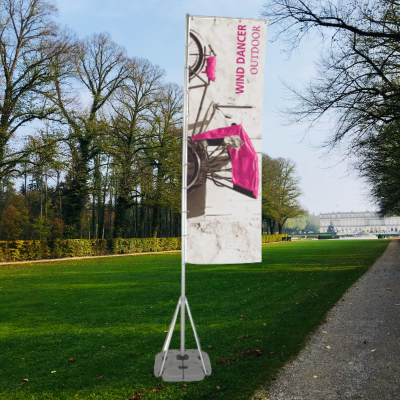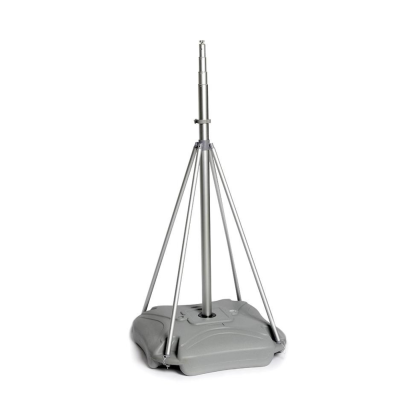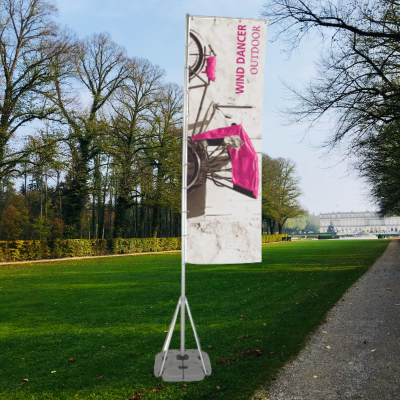 Wind Dancer Outdoor Flags
⭐⭐⭐⭐⭐ - 5/5 Google Reviews
A superb portable outdoor flag system
The base folds in half for easy transportation and can be filled with water or sand for stability. The Wind Dancer is easy to transport and set-up and can be assembled by one person, without the need for any tools.
Includes a bespoke-printed knitted polyester flag with eyelets for fixing. Replacement graphics can be easily ordered and installed. Very Portable and lightweight and takes 1 person around 7 mins to put up!
Free UK delivery on ALL orders
For delivery/collection by:
13-12-23
Choose Printing Options
Quantity
Price
£

More Prices
Click a price below to add an item, based on your chosen printing options above and relevent service, to the basket.
Product Specifications
Portable and lightweight
Telescopic aluminium pole
Eyelet fixings for graphic attachment
Beaufort scale: 4 (13-18mph/21-29kph)
Guarantee: 12 months
Setup time: 7 mins
People required: 1
Specification
| Name | Medium | Large |
| --- | --- | --- |
| Overall Width | 800mm | 1000mm |
| Overall Height | 4150mm | 5300mm |
| Graphic Width | 800mm | 1000mm |
| Graphic Height | 2800mm | 3500mm |
Artwork Guidelines
Please use our templates when supplying us with artwork:
These templates will help you create your design at the correct size, shape and proportion for the Wind Dancer, and are setup at 20% scale of full size.
Shape
The red line is the bleed line. Artwork must extend to this line. The area inbetween this line and the safe area line must only be used as a quiet area.
The purple line is the finished line. This is the perimeter of the cut graphic area, before any finishing. The area inbetween this line and the finished line will be used for hems.
The blue line is the finished line. This is the perimeter of the visible graphic area, after all finishing.
The green dashed line is the safe area lines. Important content (text, logos etc.) must be kept within this areas.
The orange circles are the eyelet marks. This is the location and size of eyelets.
Layers
Instructions (locked). Can be turned off or removed before exporting your print-ready file, if desired.
Shape Overlay (locked). Must only be used as an overlay, and must not contain any design elements. Must be either turned off or removed before exporting your print-ready file.
Eyelets (locked). Can be made visible to show show where eyelets will be located.
Design. Should be used to create and supply your design.
Artwork Requirements
Artwork must be supplied:
With any fonts outlined
With any images embedded
Including the document bleed
With any template elements (such as lines, boxes and markings) removed
As either PDF (preferred), AI or EPS format
Considerations
Our thread colours are black or white. Our sewists will choose the most appropriate colour to complement your graphic.
Important content, such as logos and text, should not escape the safe areas, as this would result an unsatisfactory appearance.
Currently, the dye-sublimation process does not allow for the use of Pantone colours. Any Pantone colours must either be converted to (or replaced with) CMYK colours before supplying your print-ready file.
FAQ's
No faqs for this product