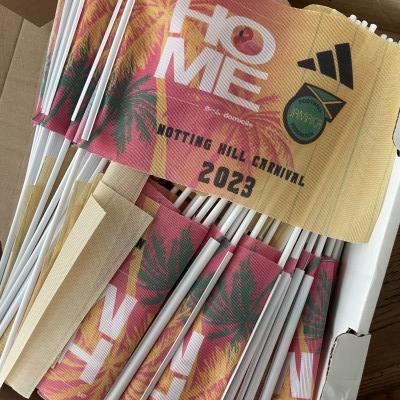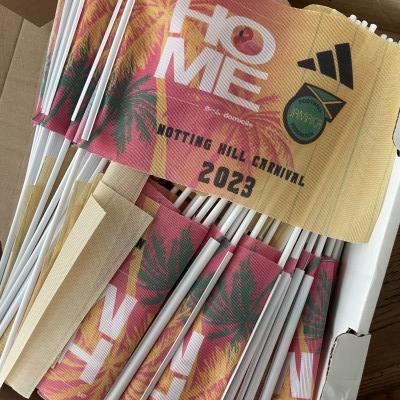 Hand Waving Flags
⭐⭐⭐⭐⭐ - 5/5 Google Reviews
FREE Delivery
FREE Artwork Checks
Elevate your event experience with our premium Hand Waving Flags, meticulously crafted to capture attention and create lasting memories. Made from high-quality 117gsm knitted polyester fabric, these flags boast vibrant and fade-resistant colors, ensuring they remain striking throughout your event. The meticulously chosen fabric provides durability, making the flags suitable for both indoor and outdoor occasions.
Fastened onto a sturdy plastic tube, our Hand Waving Flags offer a comfortable grip and effortless waving motion. The lightweight design guarantees ease of use, allowing you to cheer, celebrate, or show support without any hassle. Whether you're cheering for your favorite team, commemorating a special occasion, or adding flair to a parade, these flags are the perfect accessory to make your presence felt. Discover the perfect blend of style, durability, and functionality with our 117gsm knitted polyester Hand Waving Flags – the ultimate choice for any event where enthusiasm knows no bounds.
Free UK delivery on ALL orders
For delivery/collection by:
12-12-23
Choose Printing Options
Quantity
Price
£

More Prices
Click a price below to add an item, based on your chosen printing options above and relevent service, to the basket.
Product Specifications
Introducing our Hand Waving Flags – a fusion of quality and convenience for your event needs. Crafted from 117gsm knitted polyester fabric, these flags showcase vibrant, fade-resistant colors that remain vivid even under the sun. Their durable construction ensures they're fit for both indoor gatherings and outdoor festivities.
Fastened securely onto a robust plastic tube, these Hand Waving Flags offer a comfortable grip that makes every wave effortless. Weighing light and designed for ease, they're the ideal companion for showcasing team spirit, commemorating special moments, or adding a festive touch to parades. Elevate your event presence with the perfect balance of style and resilience – choose our 117gsm knitted polyester Hand Waving Flags today.
117gsm Fabric Flag not cheap paper
Come in bundles of 50
210mm x 130mm size
Fast UK delivery
Make your brand stand out with our captivating Small Event hand Wavers. We offer fabric Textile handwaving flags, conveniently bundled in units of 50 – from £1.40 per flag! Sized at 130mm x 210mm, these flags are a pocket-sized powerhouse of visibility. With vibrant full-color printing, your message will shine.
Our 117gsm Textile flags, while single-sided, offer a 95% show-through effect, maximizing visibility.
These Fabric hand waving flags provide a premium alternative to lighter polythene flags. Printed digitally on our robust 117gsm knitted polyester fabric, each flag is expertly fastened onto a plastic tube for easy waving. Let your message flutter in the breeze with our Small Event Wavers – the choice that combines quality, affordability, and attention-grabbing impact.
Artwork Guidelines
FAQ's
No faqs for this product