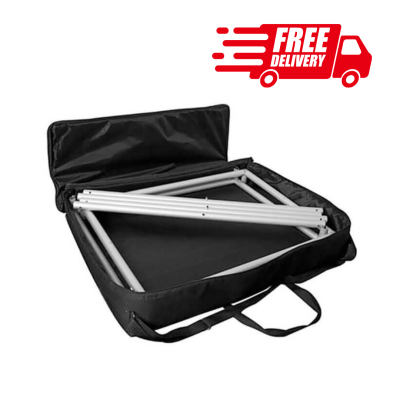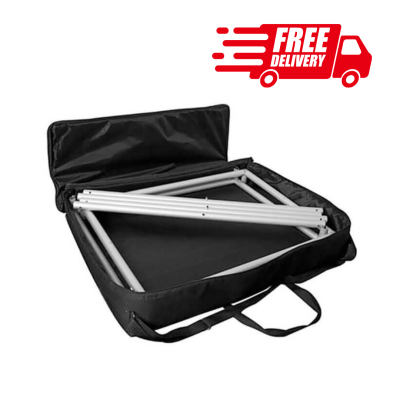 Fabric Magnetic Counter
⭐⭐⭐⭐⭐ - 5/5 Google Reviews
The Fabric Magnetic Counter Display is a versatile and portable display solution for businesses, events, and personal use. It is a lightweight, freestanding counter display made of durable fabric that can be placed on any flat surface. The display is held up by a sturdy aluminum frame that can be easily assembled and disassembled. It's compact and easy to transport making it perfect for events and trade shows. This display is an affordable and effective way to display information and promote your brand.
Free UK delivery on ALL orders
For delivery/collection by:
12-12-23
Choose Printing Options
Quantity
Price
£

More Prices
Click a price below to add an item, based on your chosen printing options above and relevent service, to the basket.
Product Specifications
The Magnetic Fabric Counter is an innovative and adaptable exhibition solution for businesses looking to make a lasting impression. This new addition to the Formulate display stand range is perfect for businesses that change stand sizes and require a customizable solution to adapt to their marketing needs.
Manufactured with a 30mm diameter aluminum tubular framework that easily push-fits together, the unique design allows you to attach multiple counters together with a quick snap connection. The magnetic framework locks onto the next counter through the printed graphics, creating a seamless and professional-looking promotional counter.
The tension fabric graphic effortlessly slides over the frame and zips up along the bottom, securing it in place. The black top sits on top, and plastic moldings sit inside the top section of the framework, keeping it firmly in place.
The counter comes with a specially designed padded carry bag with a shoulder strap and carry handles for easy storage and transportation between events. It also features an option to add an internal white laminated MDF shelf for storing marketing materials during the event.
The fabric graphic is printed in-house using a dye-sublimation printing process, ensuring full-color print with exceptional print quality. The durable fabric can be folded and machine washed at 30 degrees without the worry of the print fading, cracking or peeling.
The counter comes with a black thermoformed MDF table top as standard that can hold up to 40kgs evenly distributed. It also comes with a 5-year warranty on the hardware, providing peace of mind and long-lasting use.
Why Choose a Magnetic Tension Fabric Counter?
Our Fabric Magnetic Counter Displays are printed and manufactured in-house, ensuring the highest quality and attention to detail.
The display features a fully magnetic frame with a black top, allowing for easy attachment of graphics and images.
The displays can be linked together to create a larger display, providing versatility for your event or trade show needs.
High-definition, full-color artwork is used to ensure that your graphics and images stand out.
The fabric cover is machine washable at 30 degrees, making it easy to maintain and keep clean.
The display features a push-fit tool-free assembly, making it easy to set up and take down.
The display includes a transportation bag for easy transport and storage.
We offer a 5-year warranty on the hardware, providing peace of mind and long-lasting use.
Magnetic Tension Fabric Counter Size
| | |
| --- | --- |
| Height | 1015mm |
| Width | 800mm |
| Depth | 600mm |
Magnetic Fabric Counter Video
Artwork Guidelines
FAQ's
I need it quick, could you print and delivery it quicker?
This is sometimes possible, depends on our work loads. Give us a call to discuss 01708200166
Do I need tools to install it?
No, 1 person can install this with there hands. No tools required