What is a Correx Sign?
Outdoor Correx Signs
Correx signs are great for outdoor use and for building site signage solutions. These are very popular with the construction industry and work great as road signs. They are light and easy to store and install. They also are printed in full colour at a very low price.
"See our Correx Board page for prices"
Is Correx Waterproof?
Yes its 100% waterproof, which is why its such a great solution for outdoor signage. Correx can also be printed double sided. It can be printed directly onto the board or printed onto a vinyl wrap which then stickers directly onto the board, which can be laminated.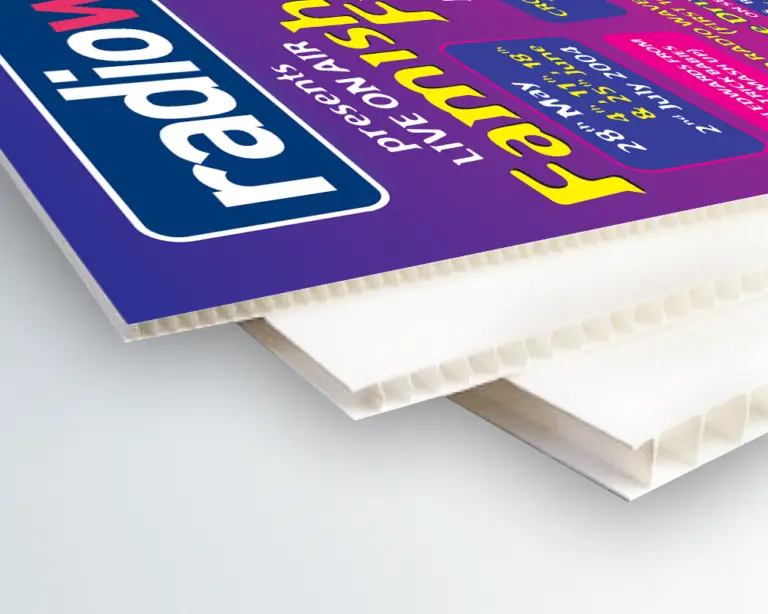 How do I fix or hang a Correx Sign?
Due to correx being a lightweight and a corrugated plastic. This makes a correx sign easy to install on any surface. See below some surfaces you may want to install a correx board onto and the solution that we recommend:
Wooden fence – Screw directly through the Correx Sign and into the wood. The plastic is a soft material and will not crack or break.
Brick Wall – First mark where the board is going, drill your raw plug holes and then screw through the correx into the raw plugs as above.
Wire fence – we can fit metal eyelets into the corners of the boards, making hanging them easy. Just use cable ties to secure them.
Metal container – Drill directly through the board and into the metal, this will hold the board into place.