Feather flag printing – A quick guide
Essex Banners are well known in the South East for their popular feather flag printing. Our feather flags – also be known as a blade or a sail flag, are extremely versatile, these can be used indoors or outdoors. A feather flag is very eye-catching, and is perfect for advertising or used for promotional events. Our cheap feather flags always ensure that your messages and brands are on display and are portable so can be taken anywhere. 
We offer a number of different bases for a feather flags:
Ground spike – Great for use on outdoor fields or mud, this cannot be used indoors.
Cross foot stand + water bag – this is ideal for indoor and outdoor use, as it comes with wide feet and an inflatable water base to use as a wight for windy conditions.
Parasol base – For outdoor use, similar to what you would put your garden umbrella in on your patio.
3 Versatile sized feather flag printing
Here at Essex Banners, we offer 3 popular sizes of feather flags. With feather flag printing, we only print on high-quality 120gsm mesh material, that can withhold strong winds and last for up to 6mmonths if left outdoors permanently. 
Our in stock sizes:
2.4m x 400mm
3.1m x 650mm
4.3m x 920mm
The product spec of all our printed feather flags are:
Washable
Larger size for increased visibility
Can be used even in bad weather conditions
As the material has a level of transparency, the print will be in reverse on the back side
A light coloured flag with a black tunnel can result in some stains once doing laundry.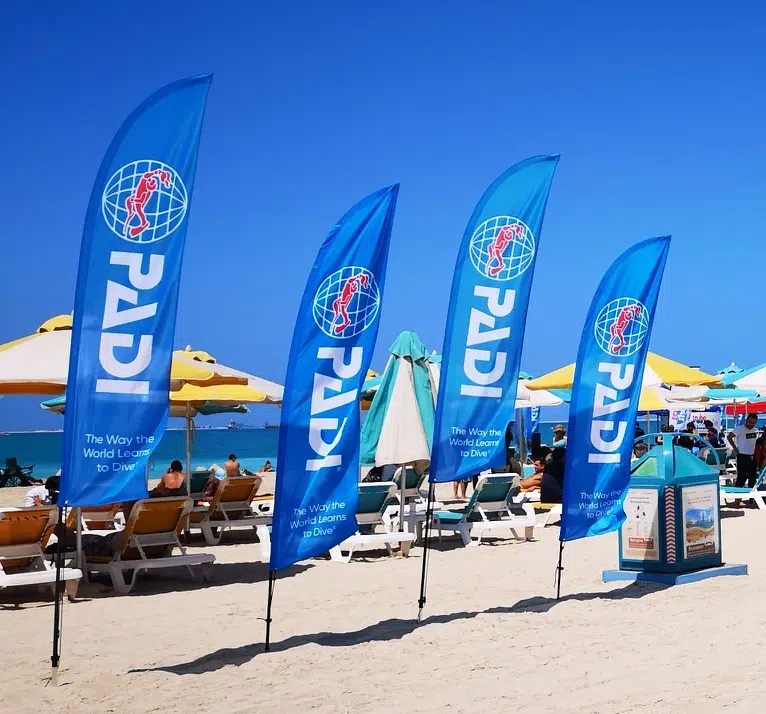 At Essex Banners we offer a range of different shapes, including teardrop flags and standard flags. Our feather flags look great when used alongside some of our promotional display products, including our roller banners and pop-out banners.
Need help with your feather flag printing?
If you need help with your design or your choice, don't hesitate to contact us by email or give us a call on 01708200166