What is a step and repeat banner?
Step and repeat banner printing from Essex Banners
What is a Step and Repeat Banner?
A step and repeat banner can also be called a backdrop banner used mainly for event photography or birthday events printed with a repeating pattern such as brand logos or images which are visible in photographs of the individuals standing in front of it.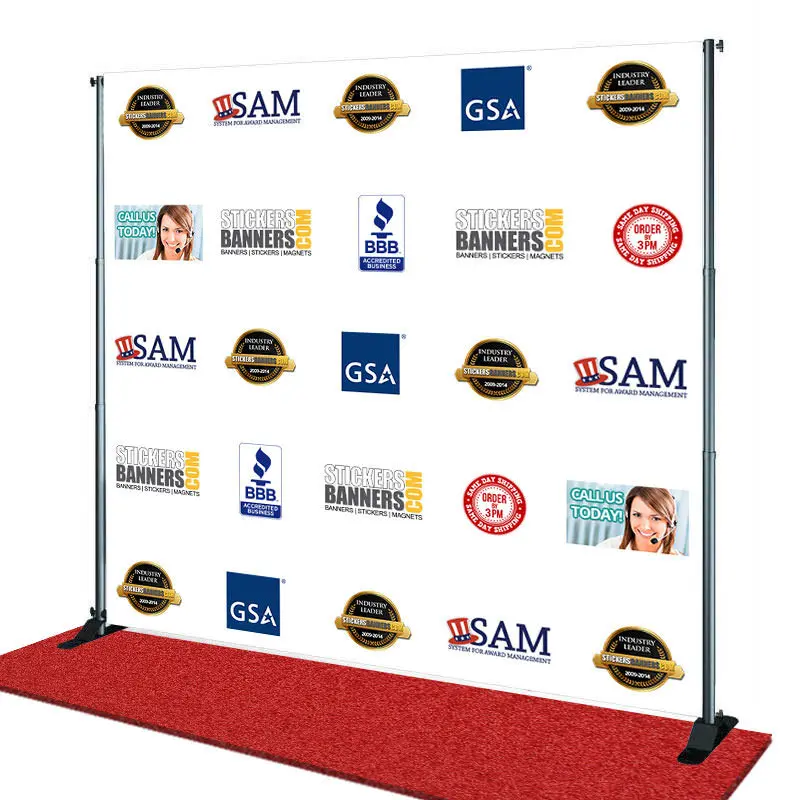 Step and repeat banner sizes?
A question we get asked a lot. If you are photographing one person at a time, the standard 8ft x 7ft step and repeat is fine and an 8ft x 8ft will comfortably fit up to 4 people. If you're thinking of maybe bigger groups we would recommend 8 – 10ft.
Our Top tips for buying and using a step and repeat banner?
1.) If your budget is low, get another company to help you pay for it.
You'll notice that many events feature multiple sponsor logos on the same step and repeat banner. If you want to save some money, offer to feature other company logos on it in addition to your own, and see if you can split the cost.
2.) Use a professional photographer.
Professional umbrella lights are great. Remember: the better the people look in their photos, the more likely they'll be to share them on social media. Consider hiring a professional photographer who will make sure that the lighting is right and the subjects of the photo look amazing. Encourage people to like your company's social profiles on the spot by telling them that the images will be uploaded after the event.
3.) Look after it.
Keep your backdrop rolled neatly away when it's not in use. If you don't store or transport it correctly, you'll end up with wrinkles and marks (which can be difficult to get out). You want your step and repeat to be clean and crisp, just like your images.
Interested in step and repeat banner printing for your company? Contact Essex Banners today for a quick quote. We are also able to put together artwork for you at small additional cost. As with all our products, we can supply your backdrop banner quickly.